South Korea's international feature Oscar submission Decision To Leave is a police procedural and romance that landed Park Chan‑wook best director at Cannes on its world premiere in Competition. Starring Chinese actress Tang Wei (Lust) and Korean actor Park Hae-il (The Host, Decision To Leave is produced by Moho Film and backed and distributed by CJ ENM, the powerhouse studio behind multiple Oscar-winner parasite, Global box office at press time stood at $19.2m.
Decision To Leave follows police inspector Jang Hae-joon (Park Hae-il) as he investigates the death of a man who fell off a mountain peak and gets to know the man's widow, Song Seo-rae (Tang), a mysterious woman from China.
Actor Park joined Screen International from Seoul while director Park joined from Los Angeles, where he was just about to start shooting the HBO series The Sympathizer in early november.
This conversation has been translated from Korean and edited for space and clarity, and the text contains one spoiler alert.
Screen International Director Park, you told us in our interview before Cannes about how you two came to work together, but could you both go into a bit more detail?
Park Chan-wook: I'm always insisting we were friendly before, and Park Hae-il insists we weren't. Human relationships can be asymmetrical. Memories Of Murder [directed by Bong Joon Ho, starring Song Kang-ho and featuring Park Hae-il] was almost 20 years ago and we no doubt met for the first time on that set. We have mutual acquaintances like director Bong Joon Ho and actors Song Kang-ho, Jung Jae-young and Shin Ha-kyun that we would hang out together and drink with.
There were many films where I liked Park Hae-il's performance, but what made me see him anew was The Last Princess [2016, directed by Hur Jin-ho], There are a lot of good male actors in our country, but I felt like I hadn't seen one with such dignity in a long time. So I started thinking about him from that time and talked about him with screenwriter Chung Seo-kyung. His face naturally came to mind when we started working on Decision To Leave,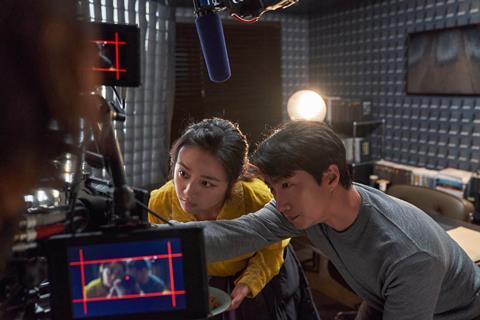 You were looking for someone "dignified", as it says in the film?
PC: Yes, Seo-rae tells Hae-joon that she likes him because he is dignified, while he tells her he likes her because her "body is very upright". I think they are both talking about how they think of themselves.
How was it for you, actor Park?
Park Hae-il: When I first met director Park about 20 years ago, he — along with actors Choi Min-sik and Song Kang-ho, who are also senior to me — seemed to be making tremendous work. Director Park seemed like he was far off on the front lines, thinking hard about each heavy step…
PC: What am I, admiral Yi Sun-sin? [Park Hae-il recently played the legendary strategist, who defeated 16th-century Japanese invaders, in box-office hit Hansan: Rising Dragon.]
PH: [Laughs] He seemed just like that, to be trudging step by step into the battlefield and I remember him as someone I wanted to root for—and myself as someone very young and junior to him. Back then, there weren't so many cases of Korean directors' films becoming known abroad, and he was thinking deeply about how to make his films and work with actors. So I always felt cautious about approaching him too easily or with too much friendliness. And then when he proposed this film after so much time, it was surprising and such an opportunity — but at the same time, my biggest concern was how to quickly overcome the distance in our trajectories.
How did you?
PH: With alcohol! Talking honestly about the past and those thoughts, and getting closer and focusing on the film. And also meeting with our continental goddess Tang Wei — our Song Seo-rae. I heard it was the first time that director Park cast a film before completing the script. He went through the whole framework with me for about two hours over beers. It was a rare experience for me, too. I was intrigued by this detective character I would play — the kind that hadn't been dealt with before in Korean cinema, and his relationship with the female lead, and how it would all unspool in director Park Chan-wook style.
At first, Hae-joon is a focused, workaholic detective but after meeting this woman he goes off-kilter, and a sense of disorientation permeates the film.
PC: Anyone who has driven in the fog will know this, but it makes you uneasy and unsure of whether you are going the right way. The fog acts as an important background and environment in this film. [Spoiler alert] In the end, when [Hae-joon] reaches the seashore and faces the same horizon, we see him trying to figure out where to go. There are a lot of scenes like that where he makes the wrong judgment and ends up in the wrong place. In the end, the climax of the film is that this person is right beneath his feet and he doesn't even know it—he goes off again to search for her but just gets further and further away. That sort of image of foolishness is central to this film.
PH: If you think about the fact that Hae-joon has the position of 'youngest homicide inspector' and the path he must have walked to get there, he is really a workaholic that focuses on his job while suffering from insomnia. He's been living the sort of life modern people these days aspire to for a better life, a better position.
People who live like that always go on the fritz once. That's what I thought — that with the desires and feelings and melancholy he's been suppressing all along, this Song Seo-rae, a really unexpected person, would seem like a small refreshing spring of water to him.
Watching actor Park, I felt like we could see bits of you, director Park, in Hae-joon. How much of yourself did you put into that character?
PC: I'm a person whose experiences are rather few and not of great depth, so it's rare that the characters and incidents depicted in my films are ones I've experienced myself. They are all things I thought sitting up at a desk in front of a computer, talking with screenwriter Chung Seo-kyung. I do have a fear of heights but that's Song Seo-rae's, not Hae-joon's, and have experienced exhaustion from insomnia which has gotten better for me, but that's about the extent of it. My personality is very different. I don't know how to cook and I don't drive much and am very different from him.
PH For myself, I felt a lot of differences with Hae-joon as well, and in that situation an actor like me would observe the director. There were a lot of things about Hae-joon I could get from director Park, even if they were external.
PC: Oh [really],
PH: Director Park is kind. He's a gentleman, as you know. If you look at people with a foundation like that… for instance, Hae-joon carries a tumbler and has many pockets, a well-groomed man. Director Park actually always carries a bag over his shoulder, too. And on set, I've often seen him wearing a gentleman's suit, sitting in front of the monitor, something which is practically unique in the Korean film industry. And first and foremost, he really listens to what people have to say—for instance, what actors have to say, even to the smallest joke—and responds. So it's through such things that I tried a lot to find a connection with Hae-joon.
Director Park, you're known for vengeance and violence in your films, but one strong aspect that sometimes gets less attention is the humour.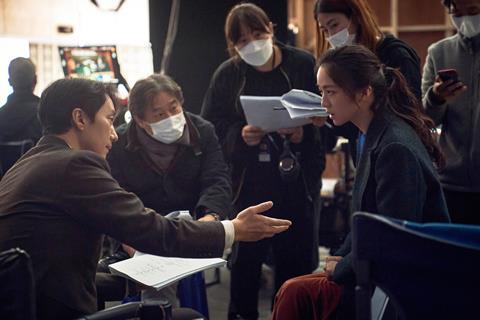 PC: Yes, people might think violence, eroticism and visual style, that sort of thing, is important to me, but in fact what I hold most important is how to make people laugh. To make people laugh in unexpected moments because I think that's the way to show our lives comprehensively. We know from experience that there are situations that are sad but also funny at the same time—only, we either suppress our laughter or cannot bear to laugh. I have to reproduce those kinds of situations in my films in order for me to believe they are really complete.
Also, I can't endure very long with only serious or solemn situations. I feel somewhat embarrassed, like I'm being pretentious and it makes me feel itchy. So I absolutely need unexpected laughter. The interesting thing is, you can see foreign audiences burst out laughing more than Korean audiences. I think Korean audiences probably take the atmosphere of the films I make as a bit more earnest and heavy.
PH: Director Park's natural tendency to be able to convey a feeling of humor in unexpected, even absurd ways that pop out in the smallest things — not only in this completed film, but when we were shooting on set, or when we were eating or having a drink in ordinary life – is amazing. To the point where people would be saying, "Is that what you call a pervert?" about his propensity. [Park Chan-wook and Park Hae-il both laugh.]
So it seems to be a very important point in his films, and it becomes a source of vitality. However, to an actor, it can be a sort of burden. "What if I did it and it's not funny?" So you try to think of the director's way of being humorous and try to bring it to life—and that, for an actor, is a burden that is not a burden. I believe it's his insight that allows him to pull out the humor in whatever the situation — violence or nudity or whatever situations exist — within director Park's works.
PC: Some of my favorite moments in this film include things where I didn't intend them to be that way or only meant to have about this much [indicating a centimetre with his thumb and index finger] but actor Hae-il made it this funny [indicating 10 centimetres and then opening his fingers up wide], In fact, we all had a tough time on set not laughing out loud.