Curators discuss the challenges of putting together this year's International Human Rights Film Festival, due to its unorthodox theme
By Han Cheung / Staff reporter
Kuo Min-jung (郭敏容) was stumped when she learned of this year's theme for the International Human Rights Film Festival (國際人權影展): "Power of Museums." The previous topics were straightforward enough — climate change, transnational migration, medical rights and so on, but what did museums have to do with human rights?
"The room fell silent, and we looked at each other blankly," Kuo recalls. "We considered giving up and going with something else, but suddenly we felt this determination to accept the challenge… especially since the festival is sponsored by [the National Human Rights Museum],
After much digging, Kuo and the three other curators came up with five feature films and one animated short for the "Whose Museum is it?" section of the festival, which runs from today through Sunday at Spot Huashan Cinema in Taipei. The annual "Human Rights Lens" section explores issues that are persistent today and also continues with some of the previous year's topics.
Photo courtesy of International Human Rights Film Festival
For the first time since the festival's inception in 2017, there will be a feature film — and a horror flick, no less. Set in post-apartheid South Africa, Good Madam is an eerie, psychological tale that delves into issues of race and class.
For those who can't make it this weekend, the festival will go on-line from Sept. 26 to Oct. 10 on documentary streaming platform Giloo. There will also be collaborative screenings at different locales afterward.
FINDING THE RIGHT FILMS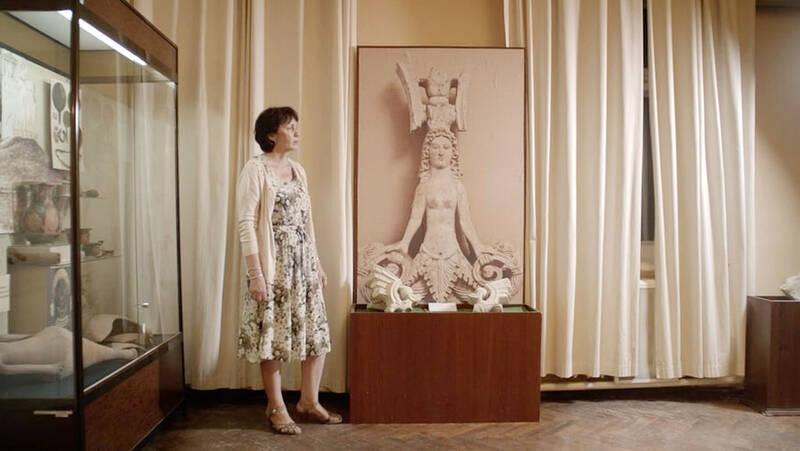 Photo courtesy of International Human Rights Film Festival
Kuo says curators should always prioritize the quality of the films and let them speak for the topic, instead of letting the theme drive the selection.
But this time, the team started by getting their hands on any museum-related film they could find, and they first noticed that museums are a popular backdrop for commercial action, spy and romance flicks. There were also quite a few films that explored the history of certain museums, how they started, where their objects came from and other important and interesting events.
They then found films featuring museums that explored relevant issues such as climate change, but it still wasn't exactly what they wanted. Finally, they came across the Dutch production, The Treasures of Crimea. In 2014, a museum in the Netherlands borrowed a collection of Crimean artifacts for a special exhibit. Just months later, Russia annexed Crimea from Ukraine, leading to an international legal battle on whether the museum should return the artifacts to Crimea or to Ukraine.
Photo courtesy of Visit Films
"It features a museum, it's connected to current events, the plot is exciting, the director is well-known and it's relatively new," Kuo says.
She noted that while international opinion overwhelmingly condemns Russia, especially with the ongoing war, this film avoids taking sides, instead exploring the conflict through identity and cultural relations with the artifacts.
"For a Crimean person, perhaps they voted to join Russia, but that doesn't cut off their emotional connection to their cultural treasures," Kuo says. "We had finally found a possible direction, and began discovering other films that followed this theme."
The Colonial Institute is a layered examination on scientific research and artifact collection during Germany's brutal colonization of Africa, with the German narrator constantly questioning and musing on the issue.
"You might have to watch it a few times," Kuo says. "It makes us think about how many museums have more or less of a dark, violent history."
Restitution: Africa's Fight For Its Art is an info-packed primer on the same issue and explores the politics, language sensitivities and other concerns behind Western museums returning artifacts to their original owners.
On the contrary, in anthropologist Hu Tai-li's (胡台麗) Returning Soul (讓靈魂回家), the Amis people of Tafalong don't necessary want their historic column back from Academia Sinica — it's more important to be able to guide its soul back to the village.
Finally, the Girls Museum and Muteum challenge established structures in modern museums. By doing so, the films seek to bring in more diverse perspectives, whether gender, race or class.
"If you finish the entire section, you can probably get accepted to a museum studies graduate program," quips co-curator Chen Chun-jung (陳俊蓉).
Chen says that the "Human Rights Lens" section is comparatively less academic, and the selections mainly discuss climate change, transitional justice and state violence.
EVENT NOTES
International Human Rights Film Festival (國際人權影展)
When: Today to Sunday, Sept. 26 to Oct. 10 on-line
Where: Spot Huashan Cinema (光點華山電影館), 1, Bade Rd Sec 1, Taipei City (台北市八德路一段1號)
Admission: Free, tickets are available at counter at least an hour before movie starts
On the Net: tihrff.nhrm.gov.tw (Chinese only)
Comments will be moderated. Keep comments relevant to the article. Remarks containing abusive and obscene language, personal attacks of any kind or promotion will be removed and the user banned. Final decision will be at the discretion of the Taipei Times.